Get Moving Help!
Visit Caddy Moving and Supply Side for Your Moving Needs!
Get Moving Supplies!

This location is managed remotely. Please call
(225) 754-4991
for assistance.
Mon

8:00am - 8:00pm

Tue

8:00am - 8:00pm

Wed

8:00am - 8:00pm

Thu

8:00am - 8:00pm

Fri

8:00am - 8:00pm

Sat

8:00am - 8:00pm

Sun

8:00am - 8:00pm
This location is managed remotely. Please call
(225) 754-4991
for assistance.
Mon

6:00am - 9:00pm

Tue

6:00am - 9:00pm

Wed

6:00am - 9:00pm

Thu

6:00am - 9:00pm

Fri

6:00am - 9:00pm

Sat

6:00am - 9:00pm

Sun

6:00am - 9:00pm
Need help choosing? Try our Size Guide.





Call for Availability
(225) 754-4991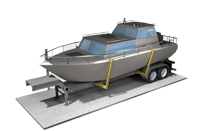 Call for Availability
(225) 754-4991
Didn't find your unit? Try these nearby locations
Storage Units in Baton Rouge, LA, with Radiant Storage
The city of Baton Rouge, LA, boasts an amazing food scene, many historical landmarks, and a downtown area full of bars, restaurants, and other bustling businesses. When you have so much to explore, you don't want to spend an endless amount of time organizing your space and burying new treasures in already stuffed closets. When you find yourself with more belongings than you have room for, it's time to give Radiant Storage, powered by Copper Storage Management, a call.
With a variety of storage unit sizes, helpful amenities, and convenient location, it's easy to see what sets us apart from the rest. Rent a small 5' x 10' unit to hold seasonal clothing or decorations when not in use or a large 10' x 30' unit for commercial storage needs such as inventory, supplies, equipment, and more. No matter your needs, we have the self storage space to meet them. Create the space you need with the help of Radiant Storage!
Baton Rouge Storage Facility near Woman's Hospital
Radiant Storage is located on Quinn Drive near the intersection of Tiger Bend Road. We're next to Hydro Dynamic Products and AZ International Fine Foods and across the street from Harelson Cemetery. Those living at Edgewood Apartments, Live Oaks, Dover Creek Apartments, or South Park Apartments will find our location convenient when decluttering closets on making a quick stop to store seasonal clothing or decorations. You won't need to go out of your way to access your items when you store with Radiant Storage.
Just a short drive from Airline Highway, we're a quick stop for residents and business owners in Shenandoah, Old Jefferson, Westminster, Inniswold, and surrounding areas.
Drive Up Storage Units in Baton Rouge
Convenience is front of mind at Radiant Storage so we want to make it easy to get in, get out, and be on your way to your next destination. All of our units offer drive up access, which makes moving in and accessing your items a breeze. Simply park in front of your unit, roll up the door, and transfer items directly from your car or truck into your storage unit. Say goodbye to the days of navigating narrow hallways and tight corners or lugging heavy boxes up flights of stairs.
Contactless Rentals in Baton Rouge
You have a busy schedule and you shouldn't have to rearrange plans to stop by your storage unit. At Radiant Storage we offer contactless rentals and bill pay so you can secure your unit and pay for it each month from the comfort of your own home. Simply select the unit you need, rent or reserve online, and begin packing to move in! Our helpful storage staff can be reached from 8 a.m. to 8 p.m. seven days a week to answer your questions and provide assistance.
Vehicle Storage in Baton Rouge
Garage and driveway space in Baton Rouge can be limited, which can make storing a boat or RV at home a headache. Thankfully, Radiant Storage offers a variety of options for vehicle storage for your car, boat, or RV. Our convenient location near Route 61 makes us a quick stop before heading to Lake Pontchartrain for a day of boating or after a weekend of camping at Tickfaw State Park.
RV Storage near Airline Highway
As an RV owner, you know the additional opportunities that come with being able to explore the outdoors in a camper. You also know that many HOAs have rules against storing a large vehicle in your driveway, making it difficult to find a place for your RV when you're not on the road. At Radiant Storage we offer RV parking so you can store your vehicle for the offseason or even the whole year.
Rent Your Baton Rouge Storage Unit at Radiant Storage Today
At Radiant Storage we want your experience storing with us to be a great one. Find a variety of unit sizes, customer-focused amenities, and more at our convenient location on Quinn Drive. Flexible month-to-month leases make it easy to rent a unit for exactly the amount of time you need. Store furniture and appliances for just a few months while you renovate your home in Afton Oaks or inventory and supplies for the foreseeable future for your growing business. Our unit size guide can help you select the best storage space for your belongings.

Looking for more information? Find answers to frequently asked questions and explore storage tips before giving us a call to make your reservation or rent your unit online today!
Don't see the unit you're looking for? Try our other Radiant Storage facilities
Features & Amenities
Every storage feature is designed from scratch against standards forged from years of experience in the self storage industry. The result is a high quality consistent customer experience you can count on.
Contactless Rental and Payment
Covered Vehicle / Boat / RV Parking
Moving Supplies
In need of moving and packing supplies?
Check out Supply Side!
Get supplies conveniently delivered to your home!

What Our Customers Are Saying
Was what was needed when I needed it
Kevin Bryant