Get Moving Help!
Visit Caddy Moving and Supply Side for Your Moving Needs!
Get Moving Supplies!

Call Center Hours
Sun - Sat 8:00am - 8:00pm
This location is managed remotely. Please call
(484) 575 1499
for assistance.
Mon

6:00am - 10:00pm

Tue

6:00am - 10:00pm

Wed

6:00am - 10:00pm

Thu

6:00am - 10:00pm

Fri

6:00am - 10:00pm

Sat

6:00am - 10:00pm

Sun

6:00am - 10:00pm
Need help choosing? Try our Size Guide.

Drive Up
Shipping Container
50% OFF 3 MONTHS RENT & FREE LOCK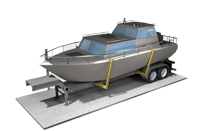 Uncovered Parking
Parking
50% OFF 1ST MONTH RENT & FREE LOCK
Call for Availability
(484) 575-1499
Storage Units in Fleetwood, PA
Residents across Fleetwood, PA, will quickly realize it's difficult to make adequate storage space at home. However, at SteelSafe Storage of Fleetwood, you'll find convenient and accessible self-storage available to rent at affordable rates. Whether you're downsizing for retirement or bringing home a new addition to the family, you can make the space you need with our Fleetwood storage units.
Fleetwood Storage Facility Near Route 12
Located roughly two minutes away from Route 12/Pricetown Road, you can find our Fleetwood storage facility with ease. Not only are we along several major roads and highways, but we're also near several businesses and establishments. Whether you're coming back from a meal at Chatty's or Giannotti's Country Manor or a fun time at Gasser's Golf Driving Range & Miniature Golf, stop by our Fleetwood storage facility on Mount Laurel Road.
We make it a point of pride to offer our premium self-storage to a wide range of neighborhoods and communities around the Fleetwood area, such as:
Alsace Manor
Pricetown
Temple
Blandon
Breezy Corner
Laureldale
Basket
To get extensive information about our Fleetwood storage units, visit our unit size guide today.
Drive-Up Access in Fleetwood, PA
When you move into self-storage, it's never pleasant having to carry all your belongings across a large parking lot. However, you can cut out the heavy lifting for good when you utilize drive-up access on our Fleetwood storage units. Simply pull your vehicle up to your storage unit and unload your belongings from there. It's especially useful for large and bulky items such as furniture and appliances. Make life easier with our drive-up storage units in Fleetwood, PA, today.
Convenient Storage in Fleetwood, PA
Convenient self-storage should not be an accessory. It should be the standard. Across our storage facility in Fleetwood, PA, we offer an easily accessible storage experience, with hours fit for your schedule. Alongside our drive-up units, we have autopay services available on our Fleetwood self-storage. By having your payment taken out automatically, you won't have to worry about missing a payment.
Accessible Storage in Fleetwood, PA
At SteelSafe Storage in Fleetwood, PA, we make it as easy as possible for you to access your storage unit and our services. In addition to our standard business hours, we have extended access hours for you to gain entry into your storage unit from 6:00 a.m. to 10:00 p.m. Monday through Sunday. If you need to give us a call, we also have special call center hours from 8:00 a.m. to 8:00 p.m. seven days a week. Rent our accessible self-storage in Fleetwood, PA, now!
Rent Your Fleetwood Storage Unit at SteelSafe Storage
SteelSafe Storage in Fleetwood PA offers storage containers in either an 8×20 or 8×40, For more out-of-the-box ideas to enhance your experience, visit our storage tips and FAQ page. Ready to rent or reserve your Fleetwood storage unit? Contact us online or give our team a call to get started today!
Frequently Asked Questions About Self Storage in Fleetwood, PA
How do I reach your Fleetwood, PA, storage facility from Pricetown Road?
If you are traveling on Pricetown Road in Fleetwood, you'll want to find and turn onto Mount Laurel Road near Highway Materials and Chatty's. Once you're on Mount Laurel Road, keep going until you reach our facility on your right.
What is the difference between a storage unit and a storage vault?
Both storage units and storage vaults serve the same primary purpose, which is to help store the items you do not have room for. Storage units are traditional units with garage-style doors that are perfect for your Christmas decorations, bikes, and other leftover items. Storage vaults are heavier, steel vaults that are used for heavier-duty equipment. If you are looking to store your everyday items, choose from one of Copper's many storage units. If you are looking for a vault for your heavy-duty equipment, check out SteelSafe Storage in Fleetwood, PA.
When can I access my Fleetwood storage unit?
You can access your Fleetwood storage unit during our extended access hours. These hours are from 6:00 a.m. to 10:00 p.m. Monday through Sunday.
How do I rent my storage unit in Fleetwood, PA?
There are several ways you can rent or reserve your Fleetwood storage unit. You can either give us a call, or rent or reserve your storage unit on our website.
How to Open Your Storage Door
Features & Amenities
Every storage feature is designed from scratch against standards forged from years of experience in the self storage industry. The result is a high quality consistent customer experience you can count on.
All Major Credit Cards Accepted
Moving Supplies
In need of moving and packing supplies?
Check out Supply Side!
Get supplies conveniently delivered to your home!